November 9, 2012
Dear American Patriots:
We can't put a pretty face on this one! The election was clearly a devastating loss for our country, our economy, and for all of the values that we hold dear. Many of us are still reeling from it, as we felt that it was a close but sure win for Romney and other Republicans in Missouri and across the country Frankly, I'm not sure that our country will ever recover from this loss. But clearly, our forefathers paid too greata price not to continue to fight for the soul of America . We must not allow Barack Obama and the corrupt group around him to break our spirit. Instead we must continue to be committed warriors, and fight the good fight to take our country back.
How did this happen? First, our demographics have changed much more than we had all realized. It is a country now that is much less white, much less married, and certainly much less traditional. Obama's worldview appeals to this population, and as Rush Limbaugh has said, for many, Santa Claus is just too hard to resist.. Another explanation is that almost 3 million Republicans decided not to vote! Obviously the base was not fired up…..because of a passive, safe campaign?? Also voter fraud has been a big problem and continues to be great cause for concern.
Thankfully, there are a few positive signs: We still have a majority in the House of Representatives, there are now 29 Republican governors, and still half the country is in our camp. But there have been loud calls for a moderation of the Republican message, even by so-called conservatives. Incredibly, House Speaker John Boehner is now capitulating on repealing ObamaCare, and talks about working on an amnesty policy. We have a divided party, one problem the democrats do not experience. Dear patriots, we cannot compromise on the conservative principles upon which the Republican party has always stood! Why have two parties, if this is the wave of the future? No, we must continue to work on reclaiming the sound principles that have made us the greatest country in the world. And in the next few months in the lame duck session, we must hold the House of Representatives accountable to refuse more spending and more taxes.
We must not despair, dear patriots! Let us continue to fight the good fight to take our country back. Most of all, continue to pray for your country, as prayer is needed more than ever in these dark times.Thank you, dear patriots, for all that you've done to help take your country back, and may God have mercy on the United States of America!
Gratefully,
Joan Langenberg
President, Missouri Eagle Forum
HEALTH CARE FREEDOM IS UNDER ASSAULT IN

MISSOURI
In the upcoming Legislative Session, Senator Jane Cunningham plans to submit legislation which would place the language of Proposition C or The Health Care Freedom Act into the Missouri Constitution. Last year 71% of Missouri voters voted for Proposition C, which prevents the federal government from mandating citizens to purchase health insurance. Representative Tim Jones will present legislation in the House.

This action has been necessitated because of Governor Nixon's recent attempt by Executive Order to appropriate 21 million dollars to implement Health Insurance Exchanges (essentially Obamacare) without approval from the legislature. Because of the effective intervention of Senator Jane Cunningham , Senator Jim Lembke, and several other senators, this action was thwarted.

In her recent press release, Senator Cunningham said, "This action to implement a federal health care exchange flies in the face of the 71 percent of voters who overwhelmingly said "yes" to Proposition C, an initiative designed to prevent the federal government from requiring citizens to purchase health insurance, and for punishing those who don't purchase a prescribed product……furthermore I'm disappointed to learn that the Governor and his administration were looking to implement the health care exchange without legislative knowledge or approval. Because of this, I plan on putting in legislation this upcoming session which would place the language of Proposition C or the Health Care Freedom Act into the Missouri State Constitution."

Missourians need to strongly urge their state senators and representatives to support this legislation in the upcoming session. We the people have already taken our stand on Obamacare and we WILL be heard again!

Capitol Legislative Academy
Held in Jefferson City


Missouri
Eagle Forum
held it's
8th annual Capitol Legislative Academy
at the State Capitol in
Jefferson City
January 4th. A record number
of attendees, 123 adults and students, came from all over the state. One school in Hillsboro, Missouri sent 20 students. We were thrilled that Donna Turk, our new Kansas City Chapter President, was able to attend. The event was held in conjunction with Missouri Family Network and Concerned Women for America in Missouri. There was excellent teaching in the morning on successfully lobbying your legislator about your particular issue. Two mock hearings were held in the afternoon. A number of legislators were able to visit and speak to us during the day. In conclusion, it was another very successful Academy!
Dear Friends:
It's been very exciting to see Missouri "put on the map" by the passage of Proposition C. As most of you know, it's been one of the top news stories in the nation. Missouri is now leading the nation in the rejection of Obamacare, and we're the example for many other states who will follow. Please thank Senator Jane Cunningham for initiating the Health Care Freedom Act bill, for her hard work in getting it passed in the Senate and House in May, and for all that she did that led to its passage as Proposition C August 3rd. Also, please thank Senator Jim Lembke, Representative Tim Jones and Representative Brian Nieves for their co-sponsorship of the bill in the senate and house, and for all their dedication and hard work as well. I'd also like to thank Bev Ehlen of Concerned Women of America, Annette Read of I Heard the People Say, Kerry Messer of Missouri Family Network, and Cindy McGhee of Show Me Patriots. Also Patrick Tuohey, Treasurer of Missourians for Health Care Freedom, was instrumental in the process as well. These leaders worked tirelessly day after day to ensure that Missourians would be protected from outrageous mandates coming from Washington DC. And thank you dear patriots from St Louis and all across Missouri who voted, worked at the polls, called and sent emails, used yard signs and gave financially. Your hard work has paid off. Even though there will be hurdles to overcome, our message to Washington by a 71% majority was loud and clear: KEEP YOUR HANDS OFF MISSOURI !

Our August 3rd victory was a great send-off as we move toward the elections November 2nd! We have a lot for which to be thankful, and I'm very optomistic about November. The people have spoken and drawn a line in the sand! So look out Washington!! Thank you again, patriotic friends, for all you've done to help take our country back to the Constitutional principles upon which it was founded.

Gratefully,
Joan Langenberg
President, Missouri Eagle Forum
---
Groups Tag Team Against Agriculture
By Chris Fennewald, Editor, MFB Publications

The radical group, People for the Ethical Treatment of Animals (PETA) wants America to be vegan and has a powerful partner in its mission, according to David Martosko, Director of Research for the non-profit Center for Consumer Freedom. He says PETA and the Humane Society of the United States (HSUS) are playing a tag match in efforts to stop livestock production.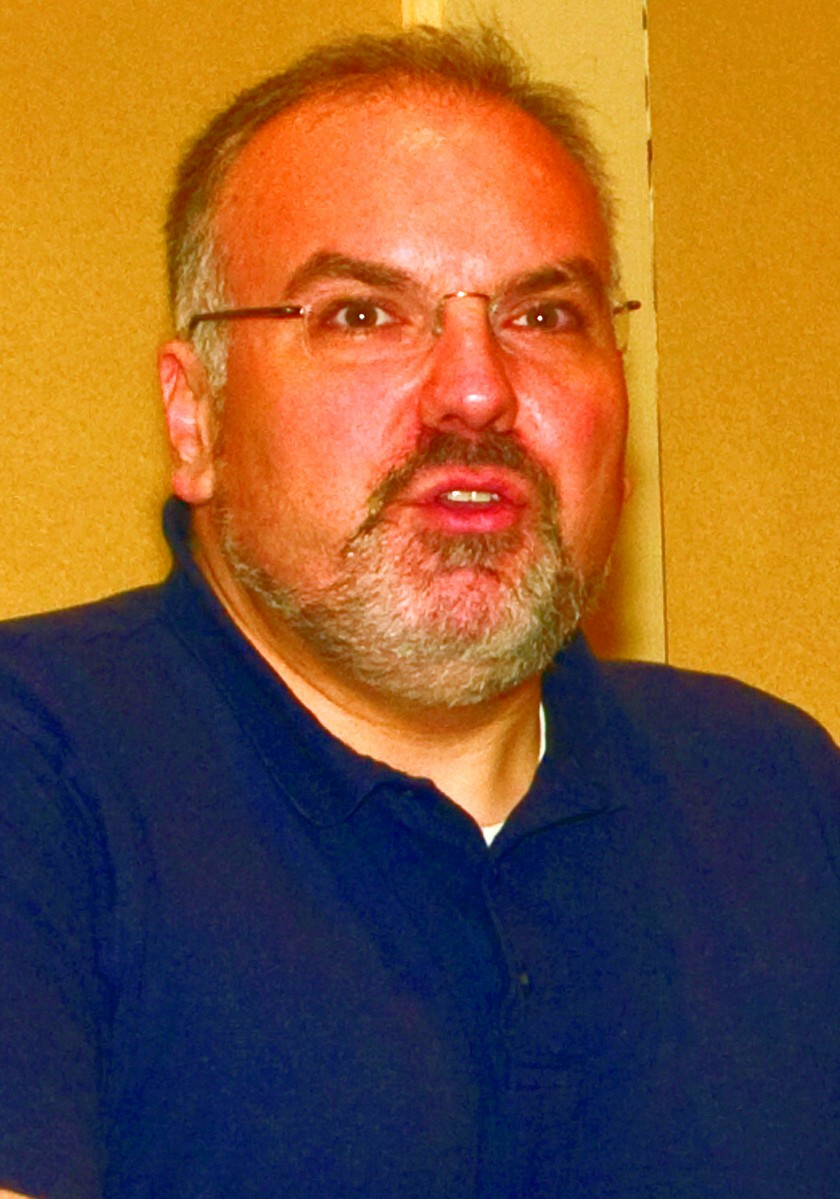 Martosko spoke to Missouri Farm Bureau members in Washington, D.C., during the MFB legislative trip in March. He is responsible for the Web site humanewatch.org which has exposed HSUS's deceptive fund raising practices and its connections with PETA.
According to Martosko, the primary job of PETA today is to make the HSUS seem reasonable by comparison. "PETA will boycott, picket or hassle the president of a company. Then, three days later, HSUS makes a phone call saying work with us, we are kinder and gentler. Usually, it works, but HSUS is not an animal welfare group, it is an animal rights group," he says.

Pictured:David Martosko
What is the difference? Plenty. Martosko told Farm Bureau members the animal rights position is that you have no right to eat a steak, milk a cow or drink the milk, use lab rats to cure cancer, hunt, fish or enslave an animal as a pet.
He says 99 percent of Americans are animal welfare proponents that agree using animals for food, clothing and research is necessary as long as animals are treated humanely.
Those same Americans who believe in animal welfare donate to HSUS believing the group maintains animal shelters.
A recent poll shows people are misled. Seventy-one percent of Americans questioned in the poll wrongly believe the HSUS is an "umbrella group" for America's local humane societies.
Sixty-three percent incorrectly think their local "humane society" is affiliated with HSUS. And, 59 percent falsely believe HSUS "contributes most of its money" to local organizations that care for cats and dogs.
The poll released in March sampled the opinions of 1,008 Americans and was commissioned by the Center for Consumer Freedom.
"These numbers indicate Americans don't really know what the Humane Society of the United States is all about," said Martosko. "HSUS intentionally uses those sad dogs and cats in its TV infomercials as props in an animal rights fund raising shell game. Meanwhile, thousands of American pet shelters are underfunded and struggling."
According to the federal income tax return filed by HSUS for the tax year 2008, less than one-half of one percent (0.5%) of the organization's budget consisted of grants to hands-on pet shelters. HSUS does not run a single shelter for dogs or cats anywhere, and it is not affiliated with any local "humane society" organizations.
The donated funds pay for a lobbying machine that attacks animal agriculture and promotes a vegan lifestyle.
HSUS has come to Missouri circulating an initiative petition to place controls on dog breeders. They want the issue on the November ballot. HSUS is using the term "puppy mill" which Martosko describes as a pejorative similar to the term "factory farm." Both are inaccurate terms that project a negative perception. In fact, the proposed ballot language has been challenged in court.
"According to HSUS, if you have more than 50 cows, you are a factory farm," says Martosko. "You may not think you run a puppy mill, but if you have more than 10 animals that produce litters, HSUS says you operate a puppy mill.
"I've seen large pet breeding operations that are wonderfully operated and I've seen small ones that are horrible. Size is not a factor, it is the conditions that matter."
A real solution is providing more funding to the Missouri Department of Agriculture to hire inspectors that check licensed dog breeders and shut down unlicensed breeders. Laws to enforce are already in place. HSUS's ballot initiative does nothing to address enforcement problems.
Martosko and other opponents of the measure agree the ballot initiative is less about dogs for HSUS and more about raising money.
"If they can limit the number of animals a pet breeder can breed, they can limit the number of registered Holsteins someone can breed or the number of chickens someone can hatch in a hatchery," says Martosko.

Expect less production and higher food prices if that happens. Of course, that puts low-income families on a vegan diet, which is just fine with these animal rights groups.
What an historical landslide! We the people have spoken VERY loudly and clearly in Missouri and throughout the nation. With 60 new Republican seats in the House, this was the largest one party switch since 1932. There were significant gains in the Senate and in Governors' seats throughout the nation as well. In Missouri there were also significant gains in the state Senate and House. Republicans are now controlling 106 House seats to the Democrats' 57 – 163 seats total. This is after approximately half a century of being in the minority and entering the election with 82 seats. The GOP also picked up 3 additional seats in the state Senate.
This couldn't have been a stronger repudiation against the socialist agenda of President Obama as he spends us into bankruptcy, raises taxes, 9% and rising jobless rate, forcing Obamacare on us, downgrading our national security and borders, humiliating the US around the world, and trashing our Constitution. He has debased the presidency as no other former US president has. Hopefully his radical agenda will now be blocked. But sadly he will always be determined: Yesterday in his first press conference in 300 days, it was clear in his speech that either he cannot or will not hear the American people, and is off to India with 3,000 people at a cost of approximately 200 million dollars a day! So much for listening and changing!
As Marco Rubio said so aptly the other night, the American people are giving Republicans a second chance. It is so imperative that we keep these new legislators' feet to the fire - accountable to truly cutting the spending, cutting taxes, repealing Obamacare, treating our enemies like enemies, and our friends like friends, and actually following the Constitution.
Missouri Eagle Forum congratulates Senator-elect Roy Blunt, Congressman Todd Akin, Vicky Hartzler, Sam Graves, Billy Long, Jo Ann Emerson, and Congressman Blaine Leutkemeyer. We commend Robyn Hamlin from the 1st District and Jacob Turk from the 5th District for fighting a long and brave fight! And we also congratulate all the Missouri state senators and representatives who won! I'm sorry I don't have the space to list all their names. We all hope the very best for Ed Martin as he investigates these very mysterious last minute "midnight voters," from 7 city and county precincts. Also being investigated is a suspicious security firm hired for one of the polling sites and connected to the Carnahans. Then there is the problem of the supposed computer glitches November 2nd reported by Secretary of State Robin Carnahan. We applaud for Ed for getting to the bottom of it! Needless to say, honest elections are mandatory!
Thank you dear patriots for all you've done to help take our country back. I know that many of you have worked hard day after day for months to bring about this wonderful victory! We have a lot to celebrate!

November 2nd is YOUR victory!
President, Missouri Eagle Forum
---
EAGLE FORUM'S NATIONAL LEADERSHIP CONFERENCE
Eagle Forum
held it's 40
th
National Leadership Conference in Arlington, Virginia September 16
th
to 18
th
. Approximately 250 leaders from 50 states were in attendance. Highlights of the weekend were addresses from Virgina Attorney General Ken Cuchinelli, Kansas Secretary of State Kris Kobach, and of course Eagle Forum founder and president Phyllis Schlafly.
There were many informative and stimulating talks during the weekend such as:
Using our latest technologies to win campaigns
· How we can defeat school tax increases
· How to pass pro-life state laws
· Keeping foreign law out of US law
· The reason that marriage is the law of the land
· Keeping elections honest
· Fighting left-wing indoctrination in the schools
· The menace of the National Popular Vote
Eagle Forum's International Issues Chairman Kathie Adams addressed the dangers of UN Agenda 21 – a comprehensive UN plan initiated in Rio de Janeiro in 1992, and adopted by Bill Clinton through an Executive Order in 1993. Its goal is to bring about a Socialist government, managed by unelected, appointed planning commissioners and other NGO's. The UN NGO called ICLEI or International Council for Local Environmental Initiatives is the arm of the UN that is promoting Agenda 21 and the overhaul of local governments. There are more than 600 cities and counties that are members of ICLEI – which means that those cities and counties are indirectly under the control of the UN. There are 3 themes that are central to UN Agenda 21: Equity, Economy, and Environment. The goal of
Equity
is to transform equal justice into social justice. Social justice is the redistribution of wealth, without property rights because private ownership negates equality. The goal for the
Economy
is to change it from a free enterprise system to a public-private-partnership system where government and private corporations partner up. This is fascism – private ownership, but controlled by the government.
Environment
refers to giving plants and animals more and at least equal rights with humans.
Agenda 21 is currently working on several specific goals within our society:
The establishment of an international energy grid, using Smart Meters, Smart Grids, and Smart Growth. The grid will be controlled from a central location
Agenda 21 is seeking to transform schools and universities into indoctrination centers, using green fear tactics and false information to influence students into supporting environmental causes.
Regional planning is an important goal of Agenda 21: The idea is to change our cities into crowded "sustainable development communities" with stack em and pack em housing and limited parking. With this setup – it's easier to keep track of people.
Agenda 21 seeks to implement a limited use of cars. Electric Smart cars – silly, unsafe, and unreliable – is the goal. Walking, biking, using buses, or short rail will be pushed. Without the standard car, again it's a lot easier to keep track of people.
Agenda 21 wishes to destroy the Judeo-Christian foundation of our nation, and replace it with secular humanism and a new-age, earth-worshipping religion. The reason is that a moral, religious people are too hard to control, and they have no need of an overreaching federal government.
Agenda 21 supports the Wildland's Project – a product of Earth First. The Wildland's project seeks to re-wild 50% of our nation and turn it into pre-civilized times where animals will have free reign, and humans will be confined to sustainable communities or little islands. To bring this about, roadways will not be maintained, or destroyed, dams will be blown up, fires will be allowed to burn and destroy millions of acres of land. Finally, people will have to leave the rural areas and live in cities.
In conclusion, Agenda 21 seeks to control every aspect of our lives, but to do it in a way that people expect, and are grateful for it. Congress needs to hold hearings on this matter, and call upon people who are experts on the issue. Please call your congressman with your concerns!